Robots invade Araneta City for the Halloween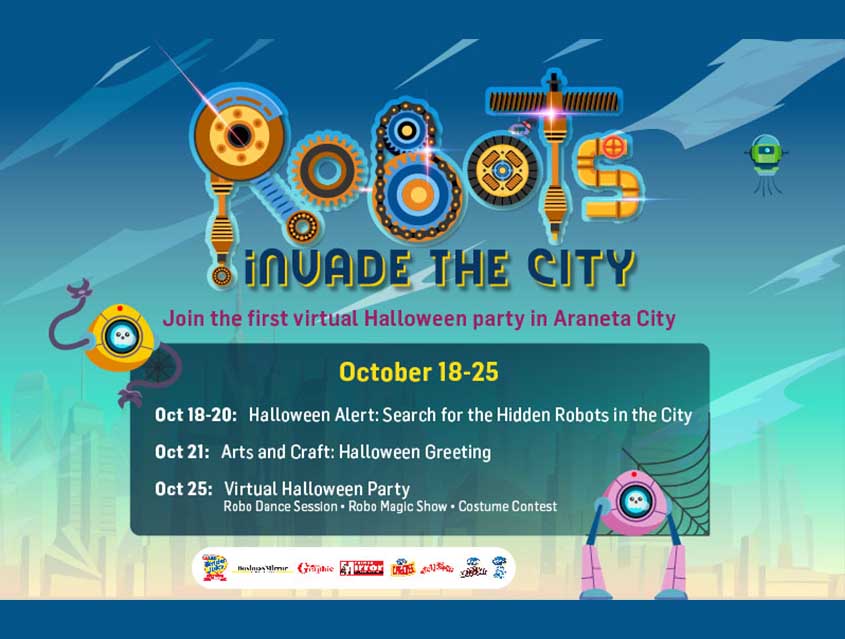 Get ready for a futuristic Halloween celebration as Araneta City brings 'Robots Invade the City' from October 18 to 25, 2020 in a mix of exciting onsite and online activities.
On October 18 (Sunday) to 20 (Tuesday), join the fun at Araneta City malls and spot the hidden 'robots in the City'! Take a picture of the hidden robots in the Halloween backdrops located at the Gateway Mall, Ali Mall, and Farmers Plaza activity areas. Post it online together with a photo of you doing a robotic pose in front of the backdrop (don't forget the hashtag #robotivadethecity). Five winners will be chosen and will take home a bag of sweet treats from Araneta City.
On October 21 (Wednesday), catch the live online Halloween Arts and Crafts workshop at the official Araneta City Facebook page. Viewers can enjoy a live sand art performance by Curves and Lines Graphics, and learn how to create their own unique Halloween artworks. Participants can even post their creations after the workshop for a chance to win an art kit from Araneta City.
Then on October 25 (Sunday), be part of the first-of-its-kind Virtual Halloween complete with virtual activities, performances, and magic acts. Kids aged 3 to 12 can also join the exciting online robot costume contest, with the participant showcasing the best robot-themed costume win a Php 5000!
To get your invites to this virtual party and be part of the costume contest, simply present a Php 500 single receipt purchase from any Araneta City establishment (Gateway Mall, Gateway Tower Mall, Ali Mall, New Farmers Plaza, Farmers Market, Coliseum Circle Restaurants, New Frontier Theater Arcade, Cyberpark 1, Cyberpark 2, Telus Arcade, Shopwise Arcade Restaurants, Manhattan Parkway, Parkview, Heights and Plaza Arcade) at the Ali Mall or Gateway Mall concierge from October 17 to 19, and fill out the registration form to be given by the concierge personnel. All registrants will then be sent an email invitation with access to the Zoom conference room where the virtual party will be held.
Experience this one-of-a-kind Halloween treat and join the fun as robots invade the City of Firsts!