FULLY AIR-CONDITIONED, EQUIPPED WITH WI-FI, GPS, CCTV
With the heavy traffic and congestion in Metro Manila, traveling to or from the airport can easily give the riding public a stressful goodbye or a taxing welcome.
UBE Express aims to remedy this situation with its top-of-the-line buses that are fully air-conditioned, equipped with global positioning system (GPS) technology, Wi-Fi connection, Closed Circuit Television (CCTV) cameras, and easy access to persons with disabilities.
While waiting before their trip to the airport, the riding public can also enjoy a throng of dining, shopping and leisure options in Araneta City. Upon arriving from NAIA, they, too, have the option to stay in Novotel Manila Araneta City, located a few blocks away from the UBE Express lounge at the Araneta City Bus Station, and enjoy what the country's premier lifestyle and leisure hub has to offer.
UBE Express
Daily Schedule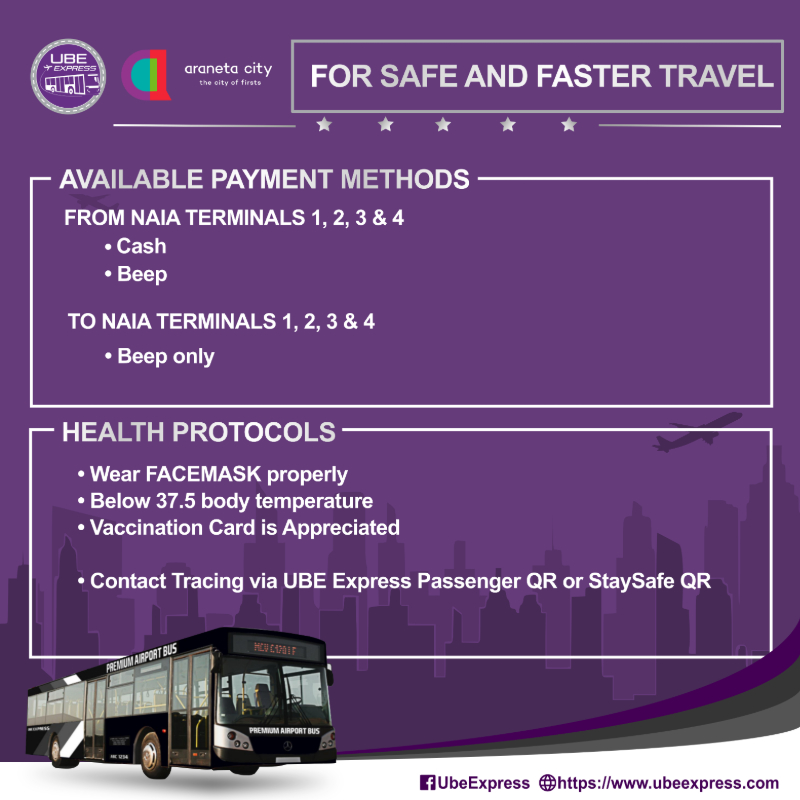 NOTE: Schedule is subject to change depending on government directives.
Airport-bound passengers from Quezon City now have a more convenient option to travel as the Araneta City partners with UBE Express, the Philippine's first premium point-to-point bus service, to offer a new route from the bustling commercial district to the four terminals of Ninoy Aquino International Airport (NAIA), and vice versa.
Frequently Asked Questions
---