Wolfgang's has recently opened its second Wolfgang's Steakhouse Grill concept in the country, after a first outing at City of Dreams. This new grill in Quezon City is geared towards the concert and sporting crowd at the Araneta Coliseum, so the bar and the menu will be a bit modified to accommodate that group.
Leina Bolinas, one of the managing partners of Wolfgang's Steakhouse in the Philippines, said that in the grill concept, they're serving more fish, poultry, and pork, as well as other steak cuts. That explains the presence of the skirt steak tacos at the tasting this week, as well as the Reuben Sandwich (corned beef and sauerkraut). Of course, Wolfgang's isn't Wolfgang's without the steak, so aside from the Baby Back Ribs, we were treated to the USDA Prime Dry-Aged Porterhouse Steak, showing that unmistakable strong, beefy flavor achieved by aging.
Ms. Bolinas said that while there are Wolfgang's Steakhouse Grills around the world, the one in the Philippines is unique as it has more items not related to steak. Ms. Bolinas said that they're definitely opening Wolfgang's in Boracay, and construction is about to begin. While these plans are not final yet, they're planning to also build in Cebu and Davao.
Wolfgang's Steakhouse was founded in 2004 by father and son duo Wolfgang and Peter ZwiAener. The senior Mr. Zwiener and Wolfgang's namesake was the former head waiter at another famous New York steakhouse, Peter Luger. Wolfgang's has over 30 locations worldwide, from the United States to Japan.
Asked why they chose to open in Quezon City, Ms. Bolinas said, "We're going closer to where deals are made. Steak diplomacy."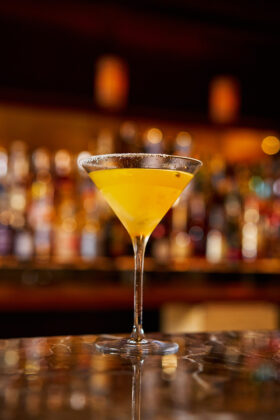 "Steak diplomacy" for her means that every time one closes a deal, or celebrates something, Filipinos tend to favor steak to mark the occasion. "We're going closer to our customers," she said, adding that the Wolfgang's customers in the North might not be comfortable driving all the way to their branch in BGC or City of Dreams. One of those customers might include the chair of the Araneta Group (which owns the Gateway malls, along with other interests in the food industry), Jorge Araneta.
"We have full support from the Araneta team. Mr. Araneta, with the new, beautiful development of Gateway Mall 2, they were the ones who really pushed for it to be higher end," said Ms. Bolinas. "I think it's the wish of Mr. Araneta to have his own steakhouse here in the mall."
Wolfgang's Steakhouse in New Gateway Mall 2, Araneta City is open daily from 10 a.m. to 10 p.m. on non-show days and 10 a.m. to 11 p.m. on days when the coliseum has a show. — Joseph L. Garcia
SOURCE: https://www.bworldonline.com/arts-and-leisure/2023/10/12/551048/gateway-gets-meatier/
Share this Post