Araneta City welcomes you back home with lighting of iconic giant tree
Araneta City brightens up the holiday season by making the City of Firsts your home for Christmas through its traditional giant Christmas tree lighting ceremony.
The City of Firsts lit its iconic giant Christmas tree in a star-studded festivity on November 10 to kick off Araneta City's "Your Home for Christmas" celebration for 2023.
This year, the giant Christmas tree glistens in gold, silver, and a touch of red colors to suit the colors of Yuletide season. It is adorned with 7,500 warm white LED bulbs, 20,000 pieces of white and gold glossy Christmas balls, 250 pieces of red and gold stars, 3,000 pine garlands, and 300 pieces of sputniks and snowflakes. Complementing the overall design of the giant Christmas trees is a golden carousel that was placed underneath the tree, signifying the return of the classic Fiesta Carnival to its original home.
The highly-anticipated traditional tree lighting event featured the appearances and performances of celebrities Vice Ganda, Seth Fedelin, Lyka Estrella, It's Showtime Kids (Argus, Kulot, Jaze, and Imogen), P-Pop group VXON, and Taylor Sheesh, with Jeremy Glinoga and Ana Ramsey as hosts. They were joined by members of the Araneta family, Araneta City executives, Quezon City officials, Binibining Pilipinas 2023 queens, and Miss International 2023 3rd Runner-Up Nicole Borromeo in lighting one of the most iconic Christmas symbols in the Metro.
First lighted in 1981, Araneta City's giant Christmas tree has become the soul and symbol of all Yuletide celebrations inside the City.
"With the Philippines having months-long celebration of Christmas, and the festivities that comes with it, our country's Christmas season is like nowhere else in the world. And definitely, Christmas in Araneta City is like nowhere else in the Philippines. Being in a place of memorable Christmas nostalgia, we want to make the public feel that Araneta City is their home this Christmas," said Marjorie Go, AVP for Marketing of Araneta City.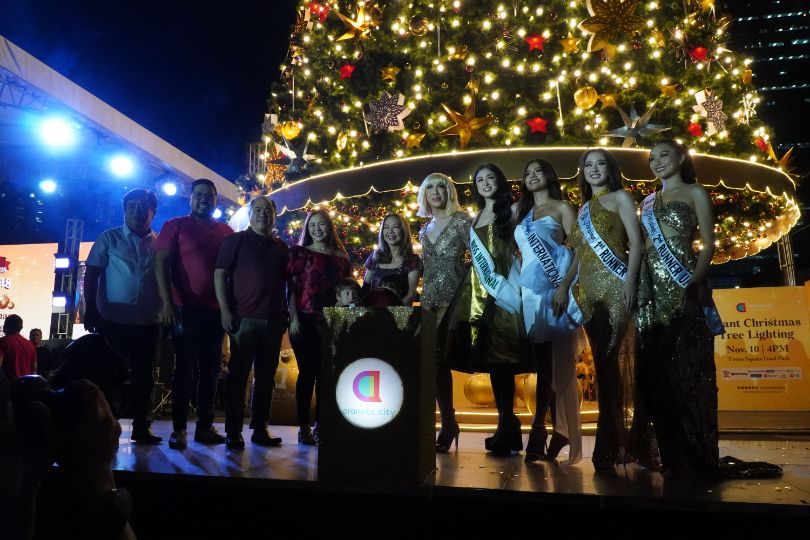 Araneta City's 2023 Giant Christmas tree lighting is made possible by Purefoods Tender Juicy Hotdog, Petron, Manila Bulletin, Daily Tribune, Philippine Daily Inquirer, Novotel Manila Araneta City, ibis Styles Hotel, Pizza Hut, Dairy Queen, Taco Bell, Jollibee, Sip Purified Drinking Water, and McDonalds.
Share this Post