#TogetherWeHeal Donation Packs Include Vegetable Seed Packets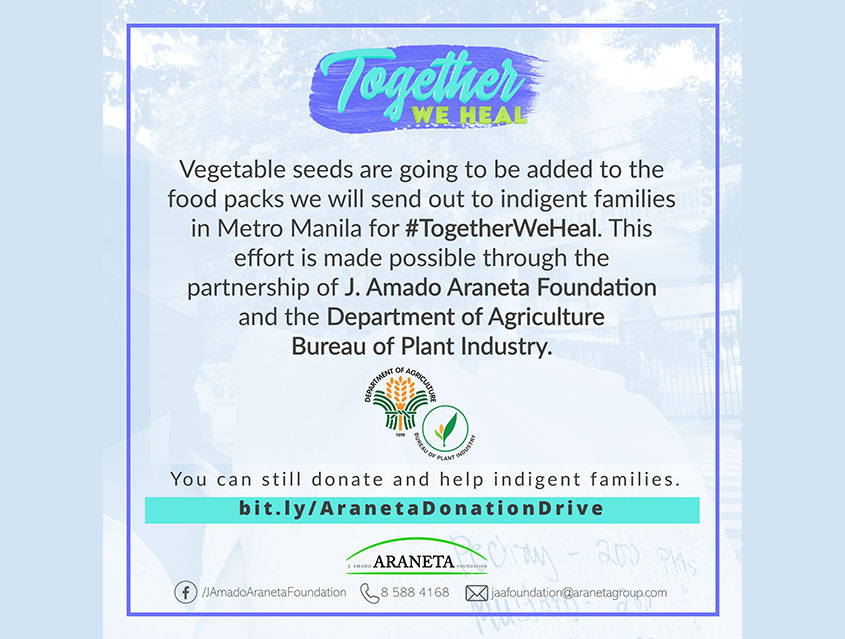 Araneta City's social arm, the J. Amado Araneta Foundation (JAAF), spearheads #TogetherWeHeal donation drive, which aims to help indigent Filipino families in Metro Manila with difficult access to basic food needs due to the COVID-19 pandemic. Launched last March 31, the campaign supports the efforts of the local government units in the Metro.
To augment the food packs for distribution, JAAF has added vegetable seeds to aid in urban gardening. This came about after a partnership with the Bureau of Plant Industry (BPI) of the Department of Agriculture has been forged to support the advocacy of promoting and intensifying urban gardening in Metro Manila.
BPI has donated eggplant, bush sitao, mustard, pechay, and upland kangkong seed packets for the campaign.
Apart from the seeds, #TogetherWeHeal recipients get 2 kilos of rice, 2 cans of sardines, 2 cans of corned beef, 3 cans of meatloaf, 4 packs instant noodles, and 6 sachets instant coffee.
Anyone can pledge a donation via TicketNet online for a minimum amount of P350. Visit bit.ly/AranetaDonationDrive for details and instructions.
#TogetherWeHeal is a partnership project between JAAF, Araneta City, TicketNet, and Binibining Pilipinas Charities, Inc. The donation drive will run until June 15, 2020.