Smart Araneta Coliseum celebrates 60 years of PH sports and entertainment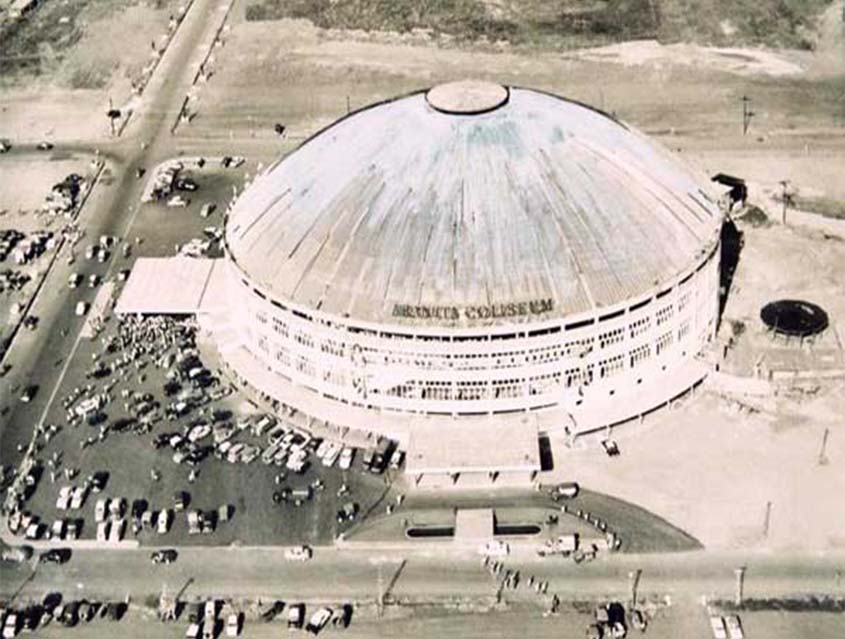 Manila, Philippines - The Smart Araneta Coliseum celebrates today, 16 March 2020, 60 years of being Philippines' mecca of sports and entertainment.
The Big Dome -- as it is commonly referred to -- is the iconic centerpiece of the historic Araneta City. It is among the first establishments built in Araneta City since the land was purchased by Don J. Amado Araneta in 1952. The coliseum was Don J. Amado's bid to give his countrymen something extraordinary, something spectacular – but within the reach of ordinary Filipinos.
The conceptual design was rendered by Don Araneta, later drawn by Architect Rufino Antonio and executed by Engineer Dominador Lugtu from 1957 to 1959. Considered as an engineering marvel, it was the largest indoor arenas in Asia, and the biggest clear span dome with no single post obstructing anyone's view of any event being staged.
The Coliseum officially opened on 16 March 1960 with the World Junior Lightweight boxing match against the American Harold Gomes and Filipino Gabriel "Flash" Elorde. The Coliseum was filled up to a capacity crowd of 36,000 screaming fans, some of whom occupied the rafters. Elorde beat Gomes after almost 2 minutes in the 7th of the 15-round bout.
Since then, the Smart Araneta Coliseum has housed a number of memorable sports games, local and international concerts, religious gatherings, beauty pageants, and other events.
On 1 October 1975, the historic boxing event Thrilla in Manila took place at the Big Dome, which featured boxing legends Muhammad Ali and Joe Frazier battled in what is considered the greatest heavyweight battle of all time.
On 18 February 1981, the Coliseum welcomed Pope John Paul II through a mass that is among the country's largest indoor gathering ever. In an emotional moment, the Pope announced then that, "This place will be called the Colosseo of Papal Audiences."
The Big Dome has been considered home of the Philippine Basketball Association (which played its inaugural game on 9 April 1975) and Binibining Pilipinas (which was first held on 5 July 1964). It also hosted collegiate sports tournaments, events for TV shows, and sold-out concerts for local and international artists.
Through the years, Smart Araneta Coliseum has undergone vital improvements to provide better viewing experience to its audience. It underwent a complete overhaul, though no structural interventions required, in 1999. A giant LED screen nicknamed the "Big Cube" was installed in 2010 to replace the old scoreboard system. A grand atrium, made from all steel and glass and surrounded by lush landscaping, was inaugurated as part of the Big Dome's transformation in 2012.
Even with other event venues rising near its vicinity, Smart Araneta Coliseum remains an important and sought-after event place for artists and organizers. Now, in its 60th year, the Big Dome continues to offer memorable experiences worth sharing, and remains as an instrument of entertainment for Filipinos.