QC Safety Seal installed in Ali Mall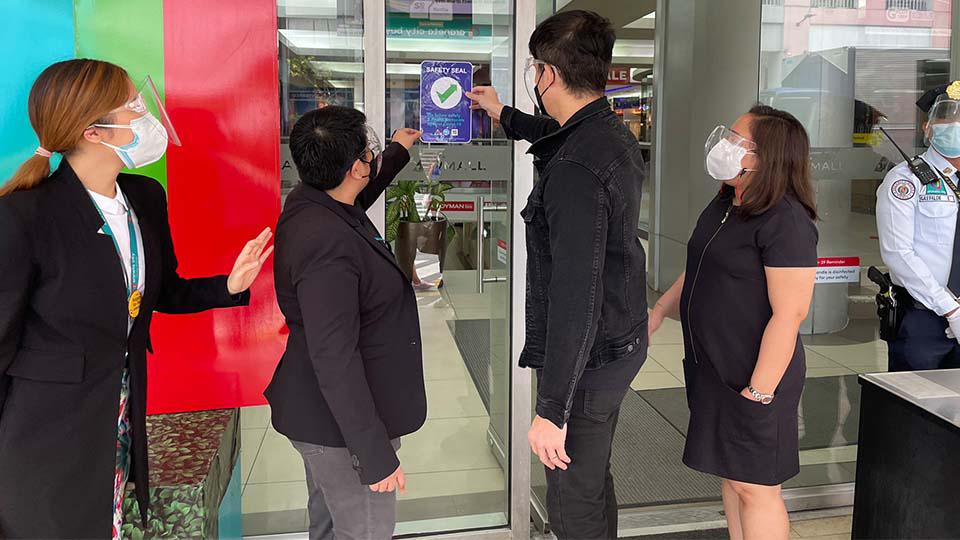 A ceremonial installation of safety seal sticker issued by the Quezon City government was held at the Ali Mall on July 6, 2021.
The event was headed by Quezon City Vice Mayor Gian Sotto, together with Margie Santos, Department Head of the Quezon City Business Permits and Licensing Department; Marjorie Go, Assistant Vice President for Marketing of Araneta City; and Aileen Ibay, Ali Mall Property Manager.
The Ali Mall safety seal is among the certificates posted in entrances of Araneta City malls after they passed the rigorous inspection of Quezon City's Safety Seal Certification Committee. The City of Firsts has been implementing the use of Kyusipass, and has been observing safety entrance protocols and regular sanization in every establishment.
The safety seal for Farmers Plaza was installed on June 29, while the safety seal for Gateway Mall was posted on July 1.
Araneta City Senior Vice President Antonio Mardo said that the safety seals given to the City of Firsts signify the company's continuous cooperation with the government in the fight against COVID-19.
"As we proudly display the Safety Seal in Araneta City malls, our customers can be assured that their health and safety always comes first at the City of Firsts," Mardo stated.
(from left to right) Marjorie Go, Assistant Vice President for Marketing of Araneta City; Aileen Ibay, Ali Mall Property Manager; Quezon City Vice Mayor Gian Sotto; Margie Santos, Department Head of the Quezon City Business Permits and Licensing Department