Get your free Easytrip RFID stickers at Araneta City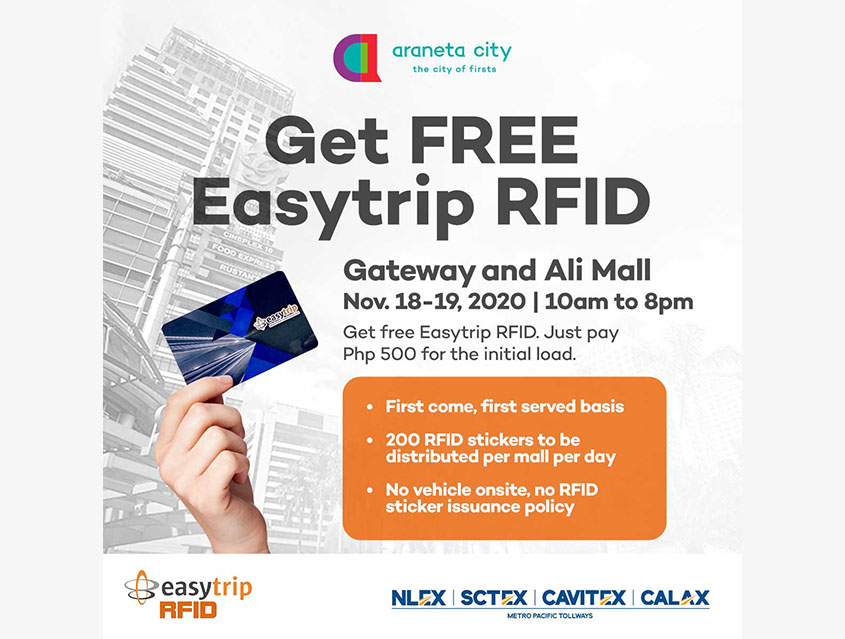 Araneta City will welcome more people who are interested in having an Easytrip RFID sticker installed on their vehicles for free this coming November 18 and 19.
For interested individuals, they will need to bring their vehicles to Araneta City and park at either Gateway Mall or Ali Mall parking areas starting 10am. Easytrip RFID stickers will be installed on a first come, first serve basis. There will also be a limit of 200 RFID stickers distributed per mall per day.
After parking, individuals can then proceed to the Easytrip booth located at Gateway Mall Basement Parking 1 and Ali Mall Cinema Level 3 and fill-out the form available in the said booths and online. After completing the form, individuals can then present it to the Easytrip representative who'll proceed to conduct a short interview and assess their vehicle. After this, they can pay for the ₱500 initial load before accompanying the Easytrip representative to their vehicle for the installation and testing of the RFID sticker.
Before this, Araneta City successfully held a similar event last October 20 and 21. Around 800 Easytrip RFID stickers were installed over the two days, and with these two additional dates being made available, 800 more RFID stickers can be further distributed.
With the Free Easytrip RFID sticker installation, vehicle owners can enjoy contactless and cashless travels in North Luzon Expressway, Subic-Clark-Tarlac Expressway, CAVITEX, C5 Link, and the Cavite-Laguna Expressway.
PROCEDURES:
STEP 1. Bring your vehicle at Araneta City and park at either Gateway Mall or Ali Mall parking.
STEP 2. Proceed at the Easytrip booth located at the mall where you are parked (Gateway Mall Basement Parking 2 or Ali Mall Cinema Level 3).
STEP 3. Fill out form (or submit accomplished form, if downloaded online) at the booth. For motorcycle owners, present your OR/CR.
STEP 4. After presenting your form, the Easytrip representative will conduct a short interview to assess your vehicle. Pay the P500 initial load (strictly cash only).
STEP 5. After paying, accompany the Easytrip representative to your vehicle for the installation and testing of RFID sticker.
TERMS AND CONDITIONS:
Promo is on a first come, first served basis. Only 200 RFID stickers will be issued per mall per day.
No online or phone-in reservations will be allowed.
No vehicle onsite, no RFID sticker issuance policy.
Payment of P500 load shall be made in cash only.
No RFID sticker installation and testing shall be done outside the Gateway Mall or Ali Mall parking.
Owners of SUVs and other big vehicles are advised to get their RFID stickers at the Gateway Mall. The Ali Mall car parking entrance has a vertical clearance of 1.75 meters
Not qualified for Easytrip RFID stickers are vehicles with narrow-type headlights (common among vehicles issued 2018 onwards) and those with the following tints: Magic Tint, Mirror Type, V Cool, Platinum, and any type of tint with metallic content. For more details and other inquiries on this, kindly contact Easytrip at 8555-7575.