Artists join Araneta City's #YouMatter campaign via Gateway Gallery Pocket Museum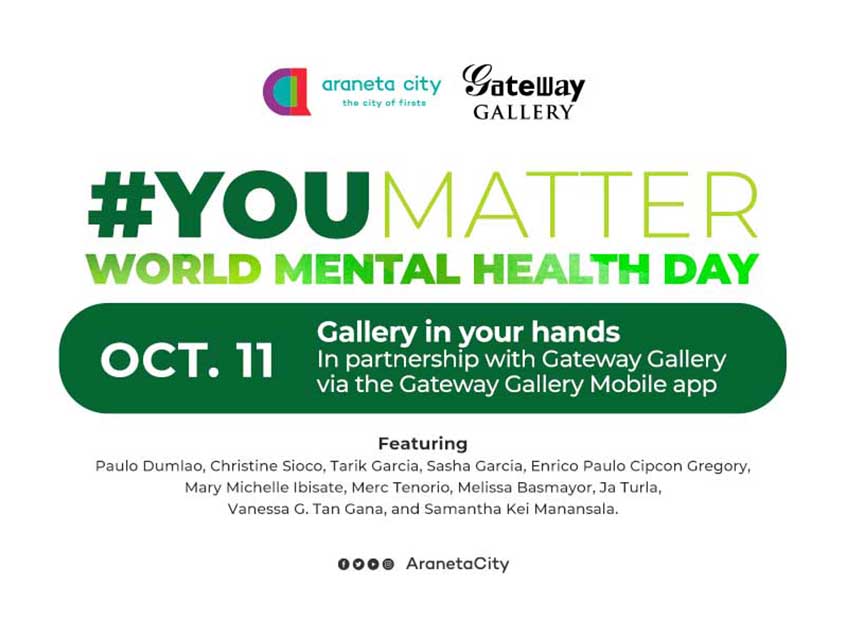 As Araneta City continues to campaign #YouMatter for the World Mental Health Day, the Gateway Gallery launches its 'Gallery in Your Hands' exhibit on October 11, 2020 via its mobile app.
The 'Gallery in Your Hands' virtual exhibit features artworks depicting different struggles and inspiring journeys of artists who once suffered and recovered from mental health illnesses. These artists are now staunch advocates of fighting the still-evident stigma on mental health.
Artists such as Paulo Dumlao, Christine Sioco, Tarik Garcia, Sasha Garcia, Enrico Paulo Cipcon Gregory, Mary Michelle Ibisate, Merc Tenorio, Melissa Basmayor, Ja Turla, Vanessa G. Tan Gana, and Samantha Kei Manansala shared their artwork for the virtual exhibit.
A passionate teacher-artist who uses art as a medium of expression and coping, Samantha Kei Manansala draws her art-style inspiration from her great-grandfather and renowned artist, Vicente Manansala. She will be exhibiting three of her artworks including Abuse in a Jar, depicting the abusive experiences she had with her mother.
"I was diagnosed with Bipolar 2 disorder in 2017 but that never stopped me from living my life and creating art. Now I advocate for mental health by educating my students and encouraging people that it's okay to express one's emotion."
Paolo Dumlao's Ode to Bulan is included in the exhibit. Known for his jaw-dropping multi-disciplinary visual art performances, Paolo started his nude artistry when he was 19 years old, mixing up the absurdity of psychology and philosophy. He is a mental health advocate with art as his medium of expression.
"I use my art to tell my story and experiences in life, my struggles against trauma and being Bipolar."
Download the Gateway Gallery mobile app to view all the exciting masterpieces of the #YouMatter virtual gallery. For interested buyers of any of the exhibit artwork, you may contact Gateway Gallery via its official Facebook page @GatewayGallery.
The Gateway Gallery looks forward to re-open soon. For now, let the Pocket Museum provide you doses of inspiration because #YouMatter.