Araneta City hosts online celebration of World Autism Awareness Day 2020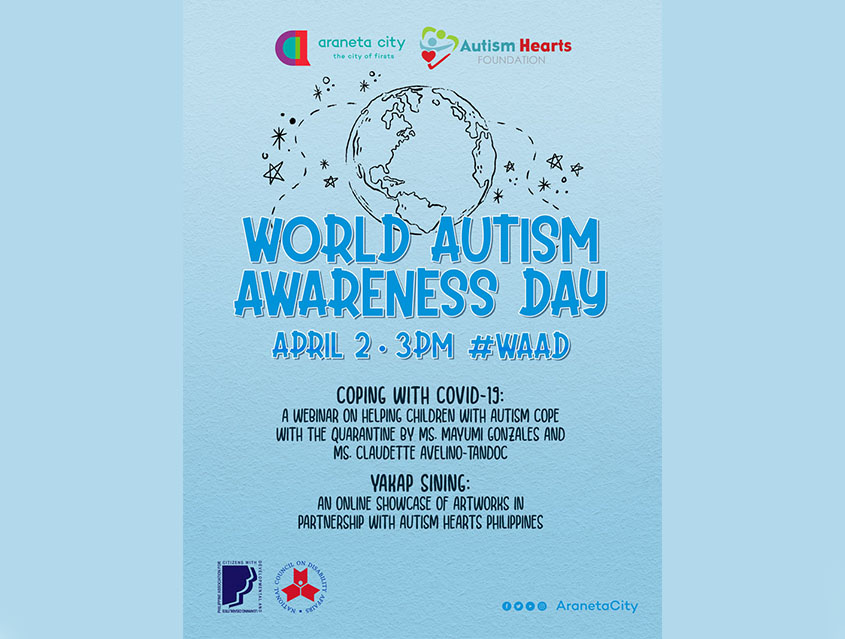 For four consecutive years, Araneta City has joined the international community in observing World Autism Awareness Day through the lighting up blue of the Smart Araneta Colisuem.
This year, given the events brought by the COVID-19 pandemic, Araneta City has partnered with Autism Hearts Philippines (AHP) and the Philippine Association for Citizens with Developmental and Learning Disabilities (PACDLD) for a digital campaign to raise awareness for autism.
On April 2, 2020, Araneta City hosted a webinar that provided information on how parents of children with autism can help their child cope with the effects of the enhanced community quarantine. PACDLD's Ms. Mayumi Gonzales and Ms. Claudette Tandoc shared their expertise by providing activities, measures, and strategies that parents of children may use to guide their child through the crisis.
The City of Firsts also had an online showcase of art by children with autism in partnership with Autism Hearts Philippines. Select artworks from AHP's "Yakap Sining" exhibit (scheduled to held in New York and San Francisco) were shown through a 360 virtual gallery and a blog post that also featured the talented artists.
This theme of this year's World Autism Awareness Day theme is "The Tradition to Adulthood", which calls for the encouragement and recognition of independence of people with ASD.
With these two online activities, Araneta City hopes to do its part in encouraging the community to better understand ASD so that everyone may better support those diagnosed with this condition.