The New Araneta City rises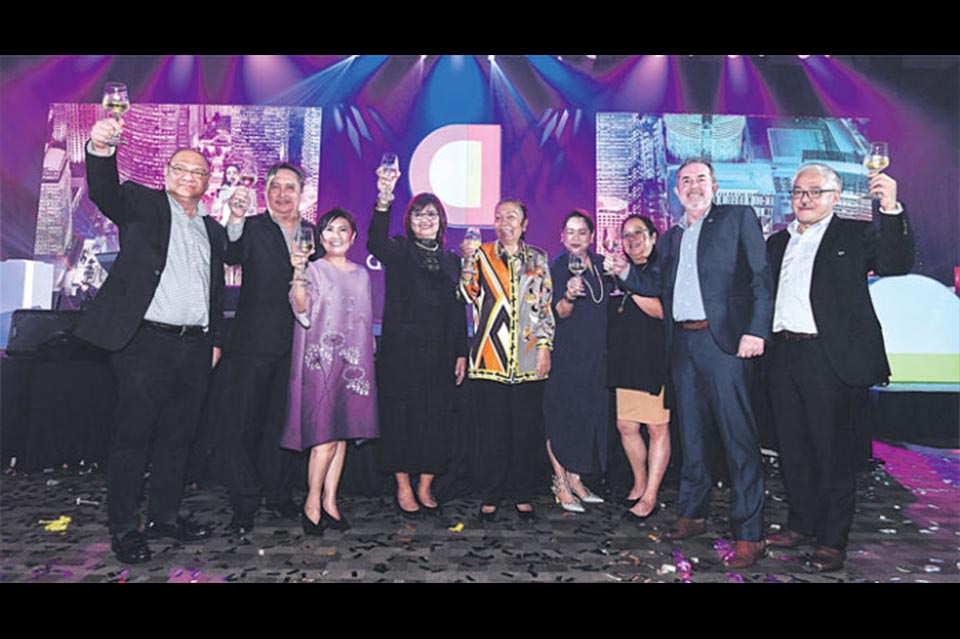 Source: Business Mirror
By:Leony Garcia
Photo by: Business Mirror
Offering a hearty toast to Araneta City are ACI SVP-Business Development John B. Castelo, ACI SVP-Operations Antonio T. Mardo, ACI VP-Leasing Lorna D. Fabian, Uniprom COO Irene Jose, Araneta Group Vice Chairman Judy A. Roxas, PPI Holdings Inc. COO Chacha Juinio, ACI Chairman of the Management Committee Rowell Recinto, Novotel Manila-Araneta City General Manager Mike Brown, Oye Fores, and Uniprom VP-Entertainment Veana Fores.
NOW calling itself the "City of Firsts," Araneta City launched on Tuesday its new brand, logo and mobile application in a ceremony at the Novotel Manila.
Sixty years ago, Araneta Center pioneered the commercial district concept in Metro Manila with Ali Mall as the first-ever mall; the Araneta Coliseum as the first all-in-one sports, beauty contest and entertainment venue; the Fiesta Carnival, then the largest indoor amusement park and adventure ride hub; and the COD Department Store as the first establishment to offer moving and interactive Christmas Belen to the delight of the Filipino masses, among others.
Elsewhere within the property and much later on, other firsts emerged: the Araneta Bus Station, the first integrated bus terminal serving several bus companies, in 1993; Ticketnet, the first online ticketing system, in 1996; the first indoor, open-air, air-conditioned floating garden restaurant, the Oasis, in 2004; and the first La-Z-Boy movie theater, the Platinum Cinema, in Gateway Cineplex in 2005, among others.
"There's a certain thing about Araneta City that's easy to make a habit among friends and the family. The comfort level is probably familiarity. A lot of what people do when they go here are personal in nature, that's why our invitation is for them to experience their personal firsts here," Araneta Group Senior Management Consultant Rowell Recinto said.
Since it is easily reached through several modes of transportation, Recinto said Araneta City could quickly became a "habit," where people meet for personal experiences.
The place also touts good transport connectivity, especially with the presence of MRT [Metro Rail Transit] and LRT [Light Rail Transit]. Now, Araneta also offers point-to-point transportation service to and from key places in the Metro.
"We used to be a center and center connotes shopping, but now we know we have offices, we have residential, we know that we have entertainment, we have shopping, we have dining," Recinto said.
"We have good transport connectivity, so we really have what it takes to be called a city. And I think it's an apt description for what Araneta City has become," he added.
The transformation continues with the ongoing developments in the 8-hectare Peza-certified office hub Cyberpark (with two of five total towers completed and a third to start), the Manhattan Garden City (with 11 out of 18 residential towers already occupied), the expansion of Gateway Mall, and the first Ibis Styles Hotel in the country.
The launch was attended by the Araneta City management committee, lessees, office locators, brand alliance partners, agencies, representatives from various media outlets and members of the Araneta family.
The event became a touch point for guests to look back at Araneta City's rich heritage of over 60 years.
Apart from the new brand and logo, Araneta City also unveiled its first mobile application to bring users closer to the services the hub offers.
The mobile app, available for download for Android and iPhone users, lists all Araneta City merchants, shops, clinics, restaurants, as well as offices, its locations, descriptions and contact information.
It will also give access to users in buying and reserving tickets for movies and concerts showing in Araneta City's cinemas, the New Frontier Theater and the Araneta Coliseum.
The app will enable users to buy and reserve tickets to bus trips, as well as give ease of access to the locations of transportation terminals.