#TogetherWeHeal with Araneta City's live online activities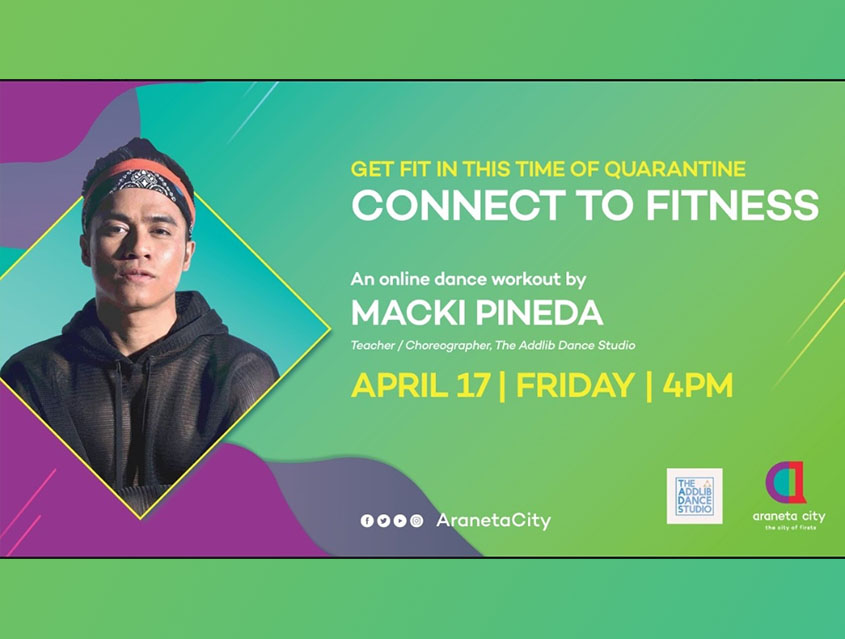 In line with its #TogetherWeHeal slogan, Araneta City has arranged a series of live online activities via its official Facebook page on April 16 to 18, 2020 to help Filipinos attain healing and fight fatigue brought by the extended enhanced community quarantine (ECQ).
On April 17, Friday, 4pm, Araneta City partners with Addlib Dance Studio for Connect to Fitness, an online dance workout that will leave the viewers fit and healthy. This online workshop, to be headed by Addlib's Dance Master Macki Pineda, is set to get the Araneta City-zens on the groove and defy the staleness of being confined at home.
On April 18, Saturday, 5pm, the City of Firsts opens the Playlist online acoustic sessions with our first featured guest, singer and songwriter Alex Corner. Araneta City fans and followers will be serenaded with his soothing and romantic voice as he performs acoustic songs and a couple of his original compositions. Fans can also get a chance to request their favorite songs online.
On April 21, Tuesday, 5pm, Araneta City teams up with Slimmers World for the Zumba Fitness online session with instructor Lars Delariman to keep the online community moving amidst the ECQ. This activity will provide netizens a dose of slimming and toning Zumba exercises that are effective calorie burner, cardiovascular system enhancer, and stress reliever.
Follow us on our official Facebook page to catch these exciting virtual events and other live online happenings for the entire ECQ period. #TogetherWeHeal and united we can get through this health crisis!
# # #
Araneta City, in coordination with the J. Amado Araneta Foundation, opens the #TogetherWeHeal Donation Drive to interested donors who would like to help families in Metro Manila who are affected by the health crisis. Visit www.ticketnet.com.ph for more details on how to take part in this initiative.