The Araneta Center Cyberpark adopts green energy solution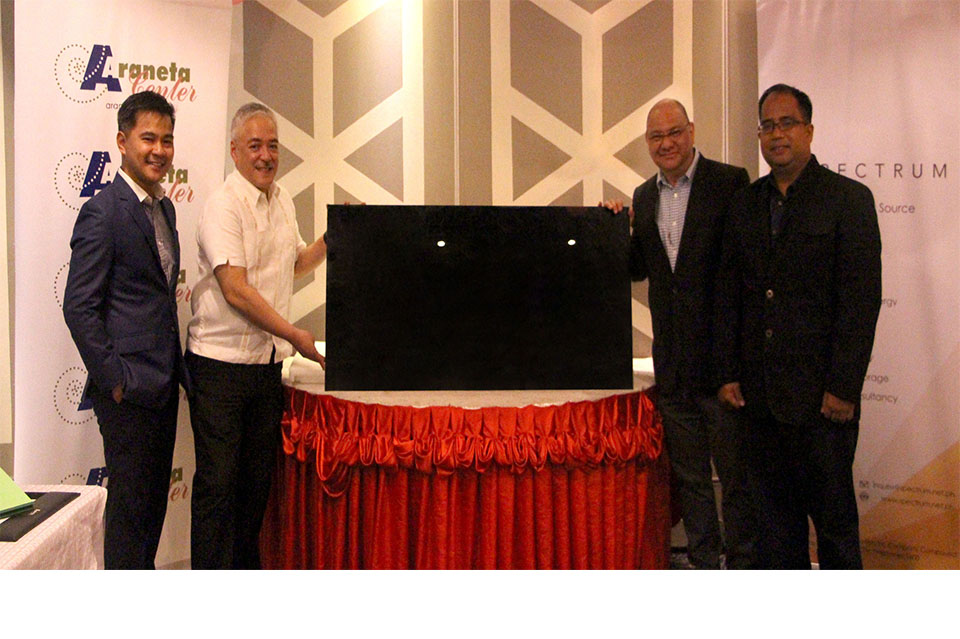 The Araneta Center Cyberpark, a multibillion-peso PEZA-Certified office development in the country's pioneering commercial district, has become key to the Araneta Group's investment in renewable energy solutions.
As more institutions and companies become increasingly aware of their impact to the environment, the Araneta Group, through its long-time partner Meralco, is working together towards environmentally responsible developments.
During the contract signing between officials of the Araneta Group and Spectrum, Meralco's wholly owned Solar and Renewable Energy Solutions subsidiary, it was revealed that a 151kW peak Solar Photovoltaic (PV) Power System will be installed on the roof deck of Cyberpark 1, the first tower in this fast redeveloping business district.
"The adoption of electricity generation through solar panels in Araneta Center's Cyberpark is a major step in our effort to integrate environmental sustainability in our office developments," noted Mr. John Castelo, SVP-Business Development for Araneta Center Inc. It is the first of such investments that align the group's corporate values to a wider approach on social responsibility.
The solar plant on the roof deck of Cyberpark 1 will utilize 384 Sunpower panels with a Power class of 395W per panel, the latest Performance Series model of Sunpower. It will also utilize 2 units of Huawei 60kW inverters, best in class with 4 Maximum Power Point Trackers and lowest maintenance cost with its Environmental Cooling System. The system is also rated to withstand 250kph wind speeds to enhance survivability versus typhoons.
"Meralco and Spectrum salute the Araneta Group of Companies for their commitment to do what is right for our environment. The Solar Power Plant atop Cyberpark 1 will be the first project of its kind and a critical component of the group's efforts to reduce carbon footprint from their building operations," said Mr. Jose Rainier Reyes, Spectrum President.
The PEZA-Certified Cyberpark 1 is already home to the biggest names in the BPO space like Sterling, Stellar, Genesys, 24/7 In Touch, and Accenture. The PV power system will allow the building to absorb the power it generates, partially displace the kW it sources from the grid, and utilize clean energy generated from this renewable source. Plugging into a solar powered solution to reduce the development's ecological footprint is just one of the ways the Araneta Group is implementing green solutions.
The Araneta Center Cyberpark is a multi-billion office development which continues its rise as a premier business district. It will have 500,000 square meters of prime office space when fully completed. Five office towers surrounding garden retail will sit on an eight-hectare area.
Rising in the midst of a commercial district and a multi-modal transport hub, Cyberpark has begun leasing out its second PEZA-certified office high rise, Cyberpark 2, which offers office spaces with wide floor plates to clients. Alorica, a global leader in customer experience solutions, already holds office here and has a recruitment facility at the ground floor.
A third tower, Cyberpark 3, is scheduled to begin construction soon, eyeing a 2021 completion.
A mixed use of office and retail spaces, the Cyberpark towers answer the needs of companies for top-of-the-line facilities, large office floor plates, and relaxing leisure and lifestyle offering that boost performance and productivity. Of the 40,000 employees working in Araneta Center, 20,000 are BPO employees and this number is expected to rise as Cyberpark continues to rise as a premier business district.
At the contract signing, Reyes also noted that "talks are being held for bigger installations." Adding, "We thank the Araneta Group for allowing Meralco Spectrum to be of service to their renewable energy aspirations. It is our privilege and our pleasure to serve such a respected company and wish them continued success."