Araneta Group's JAAF, Aster DM Foundation partners for the Medical Bus Project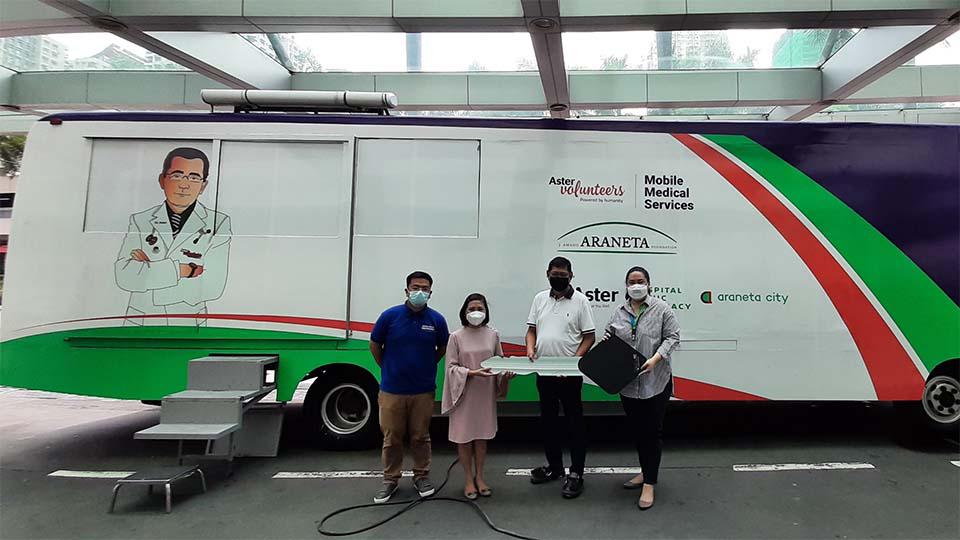 photo caption (from left to right) Atty. Jecos Carlos, Special Projects Manager of the Office of Congressman Erice; Ms. Lorna Fabian, Vice President for Leasing of ACI Inc.; Caloocan City Congressman Edgar Erice; Diane Romero, JAAF Executive Director
J. Amado Araneta Foundation (JAAF), the social development arm of the Araneta Group, strengthens its community development program via the medical bus donated by Aster DM Foundation – a foundation involved in various healthcare CSR initiatives and humanitarian activities in United Arab Emirates.
With Aster DM Foundation building a stronger presence in the Philippines, JAAF used the opportunity to provide mobile medical services in the Philippines. Through the Medical Bus Project, JAAF and Aster DM Foundation aim to help a large number of local communities beyond the primary health screening.
The medical bus will be co-managed by the Office of Caloocan City Congressman Edgar Erice, whose city has been supported by JAAF through the Hatid Tulong Program since 2019. The said program includes medical consultations, blood pressure checkups, x-ray procedures, and distribution of free medicines and vitamins.
Present in the ceremonial turnover of medical bus held in Araneta City are: Congressman Edgar Erice; Atty. Jecos Carlos, Special Projects Manager of the Office of Congressman Erice; Lorna Fabian, Vice President for Leasing of ACI Inc.; and Diane Romero, JAAF Executive Director.

"We are fortunate to have been the recipient of the medical bus donation from Aster DM Foundation. This will go a long way in making our health advocacy and roll out of health projects more robust," Romero said.