Araneta City to reopen malls on May 20 under MECQ rule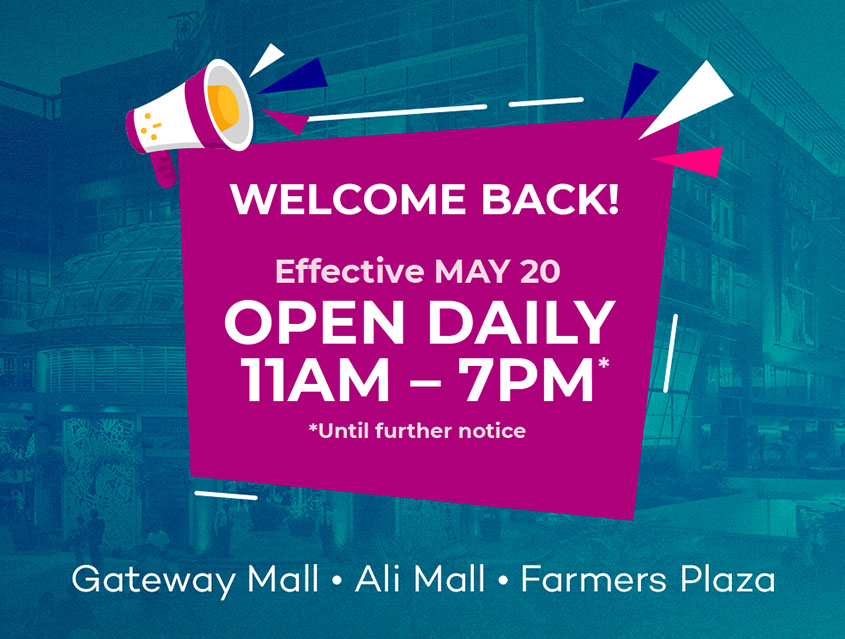 Manila, Philippines - With the partial resumption of most businesses in Metro Manila under the modified enhanced community quarantine (MECQ), Araneta City is set to reopen its malls to the public on Wednesday, May 20, 2020.
The three malls of Araneta City -- Gateway Mall, Ali Mall, Farmers Plaza -- will welcome back shoppers after the enhanced community quarantine (ECQ) temporarily shut down business operations on March 16 due to the COVID-19 pandemic.
The shift from ECQ to MECQ has allowed for the reopening of Araneta City malls. Under the MECQ rule, all malls are allowed to open, though only non-leisure stores and establishments can operate.
In preparation for the reopening of its malls, Araneta City has put in place precautionary measures such as:
- observance of "no facial mask, no entry" policy;
- temperature checks at entrances;
- observance of minimum 1-meter distance between persons, 2-steps distance between persons in escalators, and limited passengers in elevators;
- placement of foot disinfectant baths in mall entrances;
- installation of signages and floor markings for social distancing;
- placement of hand sanitizers/alcohol dispensers and information materials in key areas; and
- regular sanitation/disinfection of common areas inside malls, as well as mall exteriors.
"Most of these measures are safeguards that we've been implementing in Araneta City even during ECQ. We will continue to comply with government directives under MECQ. The welfare of our employees and customers is our top priority in reopening our malls," according to Mr. Antonio Mardo, Senior Vice President for Operations of Araneta City.
Araneta City malls will be open from 11 am to 7 pm for the duration of MECQ.