Araneta City salutes front-liners, treats shoppers during MECQ mall reopening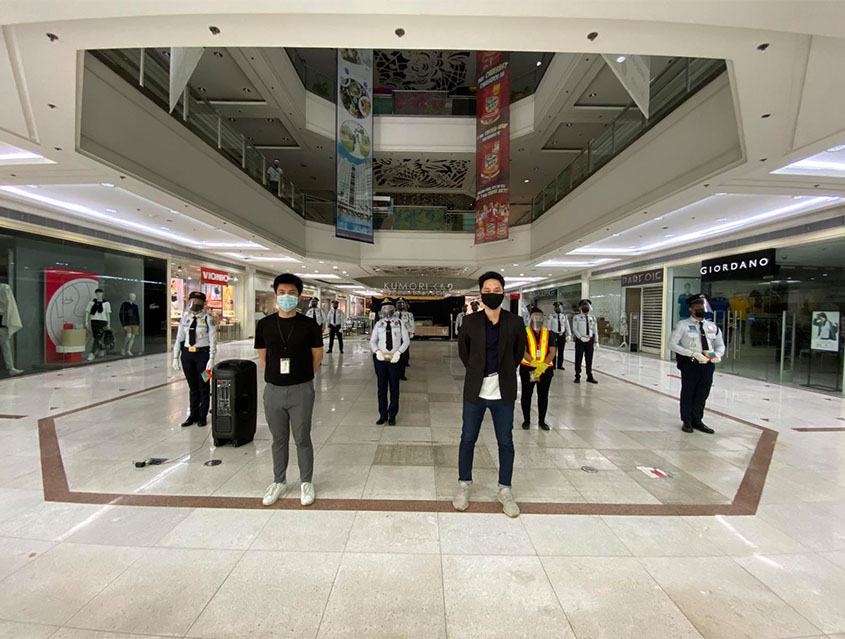 Manila, Philippines - Araneta City has resumed the operations of its three malls – Gateway Mall, Ali Mall, and Farmers Plaza – and opened their doors to the public on Wednesday, May 20, 2020.
Under the modified enhanced community quarantine (MECQ) imposed in Metro Manila, all malls are allowed to open, though only non-leisure stores and establishments can operate. Araneta City has announced that it will open again its malls starting May 20 from 11 am to 7 pm.
Hours before the reopening of malls, the Araneta City management held a small ceremony to thank mall officers and front-liners for keeping the establishments safe during the temporary closure. Social distancing and safety protection measures were observed during the ceremonies held simultaneously in all three malls.
"Dahil sa tulong ninyong lahat, handa na ulit tayong buksan ang ating mga pinto sa publiko. On behalf of the Araneta City management, we salute you for your service. May you continue to keep our community safe, solid, and secure," Mr. Mark Jacaban, Operations Manager of Gateway Mall, told the attendees.
Snacks with messages of inspiration and gratitude were given to the mall officers and front-liners as a token of appreciation.
Several shoppers also got treats from the City of Firsts. The first 300 shoppers at the Gateway Mall who accessed the Araneta City mobile app were notified to claim free care kits containing face masks, sanitizer, tissue, and wipes at the concierge.
Everyone inside the malls are being treated with strict implementation of precautionary measures to ensure their safety in the Araneta City malls, including:
- observance of "no facial mask, no entry" policy
- checking of temperature and quarantine pass/authorized company ID upon entry
- observance of minimum 1-meter distance between persons, 2-steps distance between persons in
escalators, and limited passengers in elevators
- placement of signages and floor markings for social distancing
- placement of disinfectant-soaked footbaths at entrances, and hand sanitizers/alcohol dispensers in
key areas
- regular airing of public announcements to remind shoppers on the safety measures
- regular sanitation/disinfection of the interiors and exteriors of establishments
For pregnant women, the elderly, and PWDs, they may be accompanied by one person when visiting any of the malls of Araneta City.
"Most of these measures are safeguards that we've been implementing in Araneta City even during ECQ. We will continue to comply with government directives under MECQ. The welfare of our employees and customers is our top priority in reopening our malls," according to Mr. Antonio Mardo, Senior Vice President for Operations of Araneta City.