Happening at Araneta City
What's Happening
DREAM RIDE LIKE NO OTHER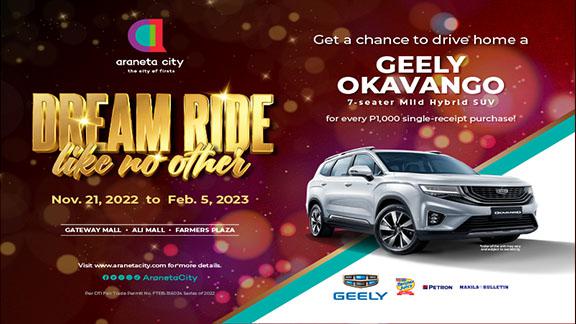 MECHANICS:
From November 21, 2022 to February 5, 2023, a customer is entitled to one (1) raffle entry upon presenting any of the following:
P1,000 single-receipt purchase from any Araneta City establishment (Gateway Mall/Tower, Ali Mall, New Farmers Plaza, Farmers Market, Farmers Garden, Coliseum Circle Restaurants, New Frontier Theater Arcade, Telus Arcade, Cyberpark Tower 1, Cyberpark Tower 2,Shopwise Arcade Restaurants, Araneta City Bus Station & Busport, Manhattan Parkway, Parkview, Plaza and Heights Arcade)
Maximum of four (4) accumulated receipts with a total minimum spend of P250 from any Araneta City food court (Food Express, Food Gallery and Food Plaza) or Dampa at Farmers Market.
Four (4) Gateway Cineplex or Ali Mall Cinema tickets
P1,000 single-receipt purchase from Novotel Manila Araneta City
P2,000 single or accumulated receipt purchase on any Petron products (Fuels, Engine Oil, and Petron Gasul)
NOTE: Only original copies of official receipts, paper tape receipts, cash or sale invoices with tax identification numbers (TIN) dated November 21, 2022 to February 5, 2023, are considered valid; Receipts from Shopwise, The SM Store, Puregold, and Isetann are not included in this promo. Reprinted receipt copies, discounted cinema tickets issued to Senior Citizen and/or receipts, invoices from the purchase of gift certificates, networking dealership purchase, remittance, payment of mobile bills, telephone bills, electric and other utility bills, credit card & the like are EXCLUDED to join this promo. Araneta City reserves the right to refuse defaced, crumpled, and tampered receipts.
For Petron customers, only official receipts from any Petron Gasul/Lube dealers and service stations dated November 21, 2022 to February 5, 2023 are valid.
For receipts worth P31,000 and up, a maximum of 30 raffle stubs shall be given regardless of the total purchase amount.
Raffle stubs are doubled when a customer purchases and presents receipts on the following dates at any redemption booths. Failure to redeem raffle stubs within these periods will yield only one raffle stub.
Valid purchases and redeem dates for double raffle entry
November 25 to 27, 2022
December 16 to 18, 2022
December 30, 2022 to January 1, 2023
January 13 to 15, 2023
January 27 to 29, 2023
February 3 to 5, 2023
HOW TO JOIN:
Visit the nearest mall concierge or redemption booth at the following locations:

Gateway Mall Concierge (UGF)

Gateway Mall Activity Area (UGF)

Food Express (Level 3)

Ali Mall Concierge (GF)

New Farmers Plaza Concierge (GF)

Present the receipt/invoice to the promo personnel at the redemption booth for validation. Redemption can be done in any of the promo booths, regardless of where the purchases were made.
Customers must legibly fill out the raffle stub with their complete name, address, mobile number, and e-mail address. Incomplete details shall automatically invalidate the entry.
Once registered, the promo personnel will encode and take pictures of all the qualified purchase receipts. For each raffle entry, the customer will receive and sign 3 stubs (with customer's details printed). 1 copy will be dropped in the designated drop box, 1 copy will be given to the promo personnel, and 1 copy will be kept by the customer.
PRIZE & RAFFLE DRAW
One (1) lucky winner will get a chance to drive home a Geely Okavango 7-seater Mild Hybrid SUV in our grand raffle draw.
Cut-off for all entries is on February 5, 2023, 7:00PM. The raffle draw shall commence at the Araneta City Marketing Department, Gateway Tower, Araneta City, Quezon City in the presence of a DTI representative on February 6, 2023.
TERMS AND CONDITIONS
A participant must be 18 years old and above to join the promo.
During the onsite validation, promo personnel will stamp on receipts that are already entered in the promo.
Winners shall be notified via registered mail, phone, and e-mail. The announcement will be made via the official Facebook page and mall posters.
To claim the prize, winners must present the winner notification letter, raffle claim stub, and two valid government-issued IDs at the Araneta City Marketing Department, Gateway Tower, Araneta City, Quezon City from Monday to Friday, 11:00 AM to 5:00 PM.
The color of the car shall be at the discretion of Araneta City and the winner will not get a choice to pick a color or exchange units.
Winners shall agree to be featured in any and all publicity materials connected to the promo.
The 20% prize tax will be shouldered by Araneta City but vehicle registration, insurance and other related expenses that may be incurred in relation to the prize will be for the winner's account.
Car prize is transferable but cannot be converted to cash. Prizes not claimed after 60 days upon receipt of notification will be forfeited in favor of Araneta City with prior approval of DTI.
By joining the raffle promo, customers agree with Araneta City's privacy policy.
Araneta City employees, sponsors, agency personnel, its sister companies, lessees, staff members, and their relatives up to the second degree of consanguinity or affinity are disqualified from joining the raffle promo.
DTI Fair Trade Permit No. FTEB-156034 Series of 2022