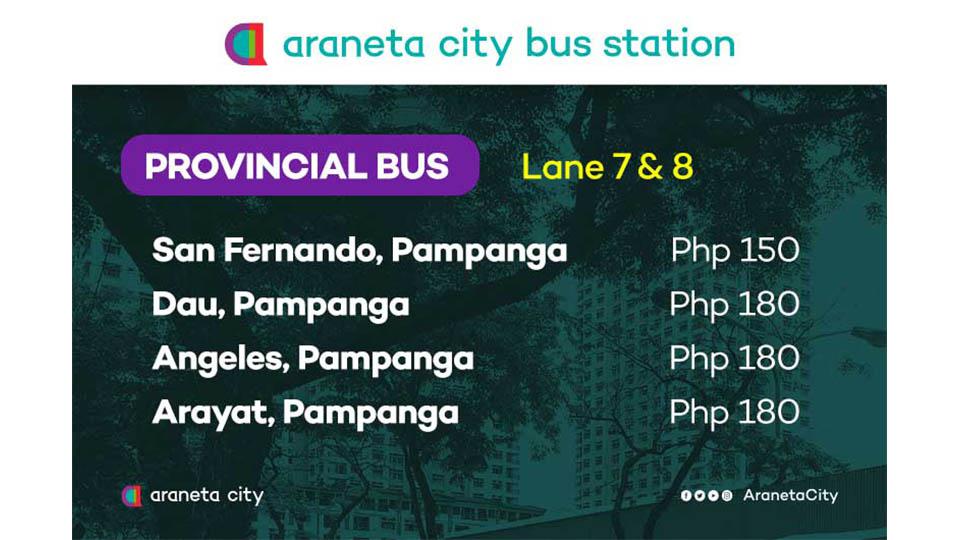 An ultra-modern transport facility that aims to provide comfort and security for thousands of travelers heading to and from Central Luzon (Dau, Olongapo, Subic), Southern Tagalog, Bicol regions, Visayas and Mindanao. Located at the ground level of Manhattan Heights, across Ali Mall, along Gen. Romulo Avenue, Araneta City, Quezon City.
UPGRADED AMENITIES
The ACBP is a central stopover for buses heading south of Metro Manila, with A-grade amenities like spacious and clean comfort rooms, concierge for passenger concerns, and check-in baggage, as well as beefed-up security features like CCTV systems and guards in key areas.
Passenger amenities
Passenger Lounge concierge
Baggage check-in and handling
Spacious and clean comfort rooms
Nursing station
Paid customer shower
Public address system
Security features
Strict "no ticket-no entry"" policy at the Passenger Lounge
CCTV Systems in the facility and bus bays
Metal detectors in entrances
Visible guards and K-9 unit in key areas
PREMIUM PASSENGER LOUNGE
The ACBP boasts of a comfortable air-conditioned Passenger Lounge with large seating capacity, clean and spacious comfort rooms, a nursing station, electronic wide screen bus schedules, and wide boarding gates. Travelers can relax at the comfortable Premium Passenger Lounge while waiting for their trip schedules. They also don't have to worry about their belongings because they the ACBP has check-in and handling service for baggage in excess of 10 kilos. A concierge at the lounge can help them with their needs. For food and last minute shopping, ticket holders can visit Ali Mall right across the BusPort. Priority boarding are given to the elderly, people with disabilities (PWDs), pregnant women, and adults with children.
COMPUTERIZED TICKETING SYSTEM
Fast and efficient, the ACBP employs an automated queueing system to manage long lines of ticket buyers, especially in peak travel seasons; and has a fully centralized computerized ticketing system that ensures swift service to travelers. The ACBP employs an automated numbered queueing system. The ticket buyer must get a number and wait to be called to make a purchase. The ticketing agents will then print a computerized ticket for the passenger. Tickets have a one month validity from date of purchase. Please check the Rules and Regulations page for missed bus schedules, rebooking and refunds.
19 BUS BAYS
The ACBP initially serves 20 bus companies and has 19 bus bays with ample loading berths assigned to each bus line. They loading area has been planned and designed for maximum traffic management efficiency, and spacious passenger loading docks. The ACBP gives travelers are given a hassle-free experience. During peak travel seasons, when most bus stations are cramped, the ACBP provides passenger comfort and assures them there will be enough buses that will fit in the BusPort and traveling to their chosen destinations.
BAGGAGE HANDLING
The ACBP has fully integrated a safe and secure, check-in / check-out baggage handling system worthy of ports. This service starts from weighing your baggage, to storing them and loading/unloading from the buses.
Bus Companies
ALPS (Batangas)
ALPS (Bicol)
Amihan
Antonina
Arandia
Bobis
Cagsawa
Ceres
CUL
Diamond Star
DLTB
E. Belleza
Elavil
Fortune Star
Gold Star
JVH
KL
LLI
Megabus
P&O
Pintados
Roro Bus
Silver Star
Ultra Bus
Valisno
FAQs
Q. Where is the Araneta City BusPort located?
The ACBP is located at the ground level of Manhattan Heights condominium, along Gen. Romulo Avenue, Araneta City, Quezon City. It is across Ali Mall and beside the Meralco business center.
Q. Where can we buy tickets?
For now, tickets may only be bought from the ticket counters on site. The BusPort also only accepts cash for now.
Q. Can I book a ticket reservation and buy tickets online?
We don't have an online booking and ticket purchase system in place yet but we are working on that.
Q. What bus lines does it service, and what are the destinations and schedules?
The ACBP has partnered with 17 bus companies going to and from destinations south of Metro Manila, namely the Southern Tagalog and Bicol regions, Visayas, and Mindanao. For a complete listing of the bus lines and their destinations, kindly check this page.
Q. What are the ticket prices?
Kindly check our page listing of all bus companies and corresponding ticket price per destination here.
Q. Do you have a list of items prohibited inside the BusPort and buses?
Yes, kindly check the list here.
Q. How much luggage can I take?
Each passenger may bring in baggage of up to 10 kilos, which is considered hand-carry and is free of charge. For weight in excess of 10 kilos, the passenger must check in the baggage and pay appropriate charges. For further information, check our Rules and Regulations page.
Q. What should I do if I miss my bus schedule?
Passengers who miss their schedule may re-book their trip, subject to ACBP management's approval. Refunds and rebooking may be accommodated, with certain considerations.
Q. What can I do while waiting for my trip?
Aside from waiting in our comfortable, air-conditioned Passenger Lounge, there are many things you can do in the City to while away the time. You may enjoy meals in various restaurants and at the food court in Ali Mall, or at the Food Exchange in Novotel Manila-Araneta City; or catch a movie at the Ali Mall Cineplex. You may also do last-minute in Ali Mall, or at Wellcome located at the ground level of Manhattan Heights, a few feet away from the ACBP. You may inquire at the Concierge for various destinations in and around the Araneta City.